The Middle Path Philosophy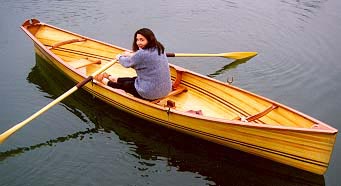 Middle Path Boats was established to serve the needs of discriminating, non-competitive boaters. Our primary aim is to provide our customers with beautiful, seaworthy, high-performance craft, each tailored to the users' specific set of requirements. While all boat designs are the result of compromise, we feel that compromise need not feel like sacrifice. High performance need not be achieved at the expense of seaworthiness. And ugliness needn't be the price of scientific design.
Experience has shown us that racing designs are often over-specialized and cranky, while "workboat replicas" tend to be uninspired performers. We have chosen the middle path, tempering high performance with civility and elegance. Each of our designs will richly reward skillful, competent handling without overtaxing the concentration of the average boater. We offer neither the fastest (though most of our boats are quite fast), lightest, nor least destructible boats; we simply offer the best balanced. Every Middle Path boat is a specific blend of the best historically proven elements of design and materials combined with the best and most practical products of modern thinking. With reasonable care, our boats can be joys forever. Examination and trial of any of our craft will convince any discerning boater that the main ingredient of all Middle Path Boats is common sense.
---
History Of Middle Path Boats
From the mid-1970's until 2007 the people at Middle Path Boats brought the world one of the widest arrays of high-performance, human powered, recreational watercraft in modern history. At the end of that run our line included 5 solo canoes, 3 tandem canoes and 12 rowing designs. Until 2007, all of those designs were available in wood/epoxy/fiberglass composite. Over the years we developed many innovative ways to combine those materials to produce craft that were light, strong and beautiful. Below are a few of our most popular models.
CLICK ANY BELOW IMAGE TO SEE LARGER VIEW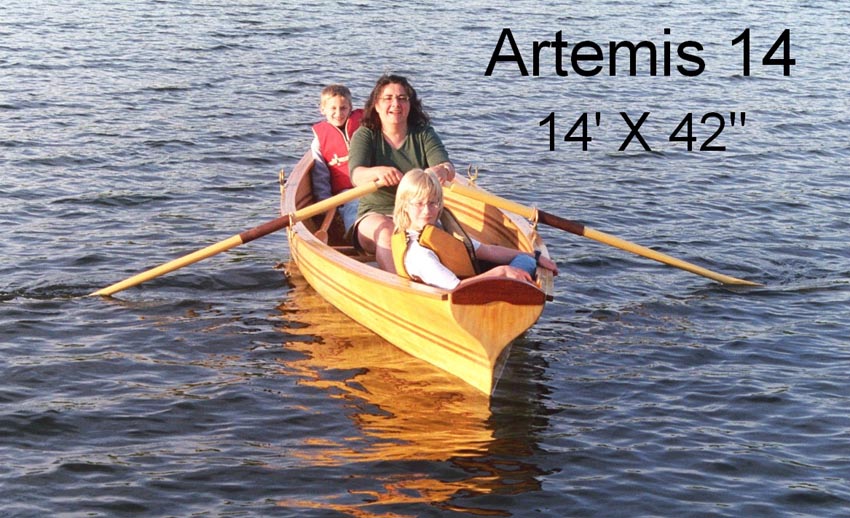 At exhibitions, people often compared our boats to the exquisitely crafted boats of J. Henry Rushton, Fletcher Joyner and Xavier Colon which are so beautifully displayed at the Adirondack, Thousand Islands and Mystic Seaport Museums. We took those comparisons to the old time masters as high praise, for like them, we strive to produce craft of great beauty and superior function. During the Golden Age of Rowing the work of high-end recreational small craft designers and builders stood out like beacons from the overweight, clumsy shapes coming from the shops of workboat builders and the highly stylized, often quirky creations of semi-educated backwoodsmen. While those sleek, elegant, civilized Victorian masterpieces inspired our designs we chose not to copy them because modern adhesives, sheathing resins and more than a century of hydrodynamics research made it possible for us to improve on them in almost every measurable way. Our great-grandparents would have been immediately comfortable in our boats, but they would have marveled at their strength, durability and minimal care requirements. At small craft shows and gatherings our boats have won their share of awards for craftsmanship, but unless people could actually try them out, the stellar performance of our designs was often overlooked. For a company that was founded on the belief that design is the primary reason that people come to love or hate their boats that was frustrating indeed. Make no mistake about it, we are proud of our craftsmanship and we still believe that, masterfully handled, wood is "the" designers medium. After all, it was our rowing cruisers, rendered in wood/epoxy composite, that were central to more historical developments and discoveries than any other rowing designs of the twentieth century. Still, many people found it difficult to see beyond the varnish and rich wood grain. As a company founded by a professional designer, we always knew that our designs should have appeal beyond the limited production capabilities of wood-based boat building technologies. By the mid-1990s, after our rowing cruisers proved to be at least the equal of any designs in history, we decided to expand our production capacity by making hulls primarily out of fiberglass and high quality resins. The immediate result was that, for the first time, rowing enthusiasts had access to a sophisticated recreational hull at an affordable price.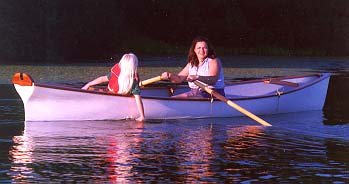 While clicking through our gallery of favorite designs please note that all have sleek, round-sectioned, proprietary shapes. From our earliest days our design and building skills permitted us to move well beyond the production of simple or crude forms.

Unlike some companies, Middle Path Boats has never offered for sale any plywood boats, nor will we ever offer fiberglass replicas of such angular and ungainly craft. Look for some of these designs to be offered in more affordable materials in the future.